edubirdie youtube

Influencer marketing allows online video channels to serve as legitimate businesses, but creators must still be careful about the companies they promote. Hundreds learned that lesson after a BBC report revealed that EduBirdie, an essay-writing service whose product has been described as a form of academic dishonesty, ran a widespread campaign of branded videos on YouTube.
Some creators were unrepentant about their partnerships with EduBirdie. "Whether a student wants to cheat or not it's totally their choice," Alpay P said in a statement. "You can't really blame EduBirdie or creators who promote them because everyone's got their own hustle."

EduBirdie, which describes itself as "the professional essay writing service for students who can't even," charges students a fee starting at $18 per page for each assignment. Sam Gyimah, the Universities Minister for England, told the BBC that the site is "clearly wrong because it is enabling and normalizing cheating potentially on an industrial scale."
The removal of the videos follows a BBC investigation published earlier last week that reported the existence of more than 250 YouTube channels containing paid promotions for EduBirdie. Among the channels promoting the service were influencers like Adam Saleh and the gamer JMX, both of whom have millions of subscribers.

Following the BBC's investigation, YouTube notified influencers to say that it would take down videos that didn't comply with its policies. The BBC noted that that selling the papers isn't illegal, but YouTube says that while creators can include paid advertisements in their videos, they can only do so if said promotion complies with its policies. This is where the influencers ran into trouble: promoting so-called "Academic Aids" defined as test-taking and academic paper-writing services are prohibited, resulting in the removal of a number of videos. The BBC noted that some channels had over a hundred videos removed.
The videos violated YouTube's ad policies
Several popular YouTubers were named in the BBC report, including Adam Saleh. And, if you are wondering if these YouTubers fully understood what they were selling, or if they thought it was a tutoring program, advertisements, including ones from vlogger Onision, don't leave much room for doubt.
I feel like there used to be some cloak and dagger to cheating, but this being 2018, all rules are out the window.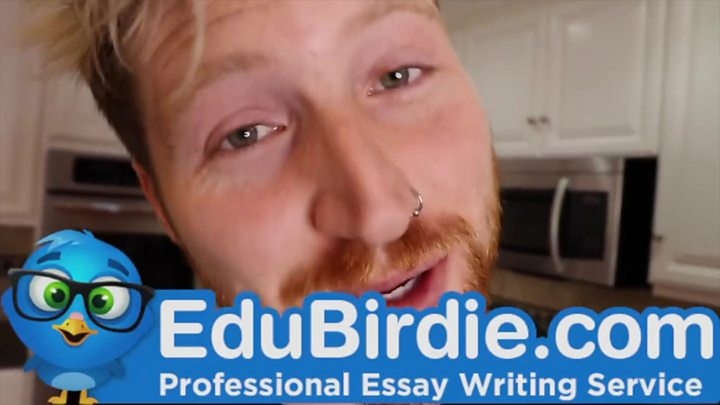 The QAA and others argue that social media companies have a moral responsibility to discourage the promotion of academic dishonesty.
In one recent video, Asiegbu lifts his sweatshirt to reveal an EduBirdie T-shirt before he and B Lou recommend that students use the company.
References:
http://www.businessinsider.com/youtube-pulls-edubirdie-homework-cheating-videos-2018-5
http://www.theverge.com/2018/5/6/17324856/youtube-removed-hundreds-of-videos-promoted-edubirdie-academic-cheating-service
http://whatstrending.com/video/25998-edubirdie-the-scholastic-cheating-scandal-rockin/amp/
http://www.bbc.com/news/blogs-trending-46468389
http://edubirdie.com/blog/500-words-essay-writing